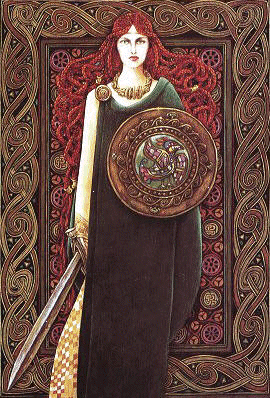 If you are the artist please contact me
The Mystery of Brigit

You walked out of ancient mists
Bringing light to my hearth,
Blessing with fire,
Restoring the life with the flame.

Clothed in your grace,
I follow your footsteps
To the place where
Mysteries merge
And the shapes behind myth
Are revealed as truth.

Your presence soothes
And sharpens memory,
You are my maker of song,
The radiant flame of gold
That illuminates the land
Beyond the ninth wave,
That forges a sword of light
To penetrate, to heal.

Kneeling at your well
I drink of your mystery,
The waters of the sun
Flood my skull
With sacred fire,
Flowing with light,
My spirit sings of the deep.
~~~~~~~~~ © Hilaire Wood 2000 ~~~~~~~~~
Peace in Ireland

I call forth the land of Ireland -

Not the land of the hero with lance, barbed,
Barbed the wire of her divisions, deep,
Deep the grief of her women, wailing,
Wailing the wind over desolate waste.

I call forth the land of Ireland -

Not the land of the hunger, bitter,
Bitter the hearts of her children, exiled,
Exiled the hopes of their fathers, frail,
Frail the flame in the hearth of the family.

I call forth renewed the land of Ireland!

Land of pastures, green, sustaining,
Sustaining the growth of her people, gifted,
Gifted the gathering of tribes, peaceful,
Peaceful the sons and daughters of Ériu!

I call forth the land of Ireland!

" Peace up to heaven, heaven down to earth,
Earth beneath heaven, strength in each one!"



~~~~~~~ Hilaire Wood 1998 ~~~~~~~
The Belly of Death

Branches bare as I am bare,
Stripped of leaves which fall
As summer falls,
As warmth falls,
As joy falls.

And through the trees the crone appears
With ragged robe on bony ribs
And grey of winter in her hair,
To fear, to be afraid - yet
There's all of summer in her arms.

For leaves fall, the sap falls, the sun fades,
All the richness, goodness rotting down,
The hope, the plans, the love, the dreams...


But look! We are giving our dreams to the earth
And like a mother she will give them life,
And keep them warm 'til spring
When the sun brings his quickening
And they will sprout and flourish,
Renewed by their sleep in the belly of death.
~~~~~~~Hilaire Wood 1993~~~~~~~
The Eagle Messenger




 




 


Cloud-smitten I dance
on rivulets of air
my wings sleek with warning,
 my tail-feathers channelling fate.


 


Circling Eryri from the valleys of Llŷn,
past dark mountain cairns 
and desperate tangles of blackthorn and gorse,


 




Kya! Kya!
I call to those with the wisdom of oak
Kya! Kya!
Cries spiralling, gliding,
soaring and swooping,


 


falling unheard
on the beaches of Môn.
~~~~~~

Hilaire Wood 2008

~~~~~~

design by Bradley W Schenck